Kate Cook is a highly experienced international speaker, and her expertise has secured her numerous tv appearances, publishing deals, features and commissions.  Kate has personally worked with over 7,500 individual clients and numerous corporates.  She is founder of the Harley Street Clinic The Nutrition Coach.  More at www.katecook.biz
Kate is a real change agent, she has the inherent ability to encourage, coax and challenge people to change their busy and breathless lifestyles into a more measured and sustainable approach with huge side benefits; ranging from less stress to better sleep patterns, better weight management, more energy and sustained stamina.
With over 12 years experience she is one of the UK's leading Wellness and Nutrition experts and is in high demand with progressive organisations that have realised that a healthy workforce means a healthy and potentially profitable business.
Kate is leading an unrelenting campaign to help corporate UK take 'wellness' more seriously and make it more of a priority. Her real expertise is identifying what are the barriers that are holding people back, and consequently, what they will need to flourish. She is expert at helping to make this happen without ever sounding like she's telling you off, making you feel bad or recommending painful medicine.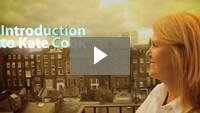 Having qualified at the Institute of Optimum Nutrition she has since provided face to face consultations for over 7,500 patients. She also specialises in moving a whole team/organisation, and in order to keep herself at the forefront of wellness she still runs a successful private practice.
Kate is an accomplished author of critically acclaimed books: 'Get Healthy for Good', 'Drop a Dress Size' and' An Unfit Mother' and she has written columns for Marie-Claire, Men's Health, Red, Zest and Closer.
She is a joy to work with, really good fun and right at the top of her profession. Your workforce is vital; welcome to Kate Cook.
Corporate clients include:
Accenture • Acumen • Bank of England • Bank of New York Mellon • Divertimenti • Channel 4 • Charles Russell Solicitors • Chiswick Business Park (Nice Place to Work) • Christies Fine Art Auctioneers • City West Homes • Conocophillips • Discovery Channel Europe • EDF Energy • Food Secret • Investec • Itsu • Jones Lang LaSalle • JP Morgan • Leiths • Ogilvy and Mather • Origins • Oxford University Press • London Underground Limited • McKinsey Consulting • Merrill Lynch • Ping Pong restaurants • Prêt a Manger • Royal Bank of Scotland • Skanska • Topshop • Verisona Law … and many more.
Mindful Wellness
Since 2012, Kate has also worked closely with strategic partners from Mindfulness at Work, to deliver a series of programmes called "Mindful Wellness".
The concept of Mindfulness is a researched based approach to Health originally developed from Eastern philosophies principally by Jon Kabat Zinn at The Massachusets Stress Reduction clinic in the 1970's.   His team have collected compelling data over many years and on-going studies have shown that a Mindful approach to Wellness in the Workplace has a dramatic influence on working life.
The "Mindful Wellness" programmes  dynamically increase the resilience of staff in terms of coping with stress and the impact of heavy work loads and long hours.  We have developed programmes for:
Mindfulness Training – resilience, stress reduction, focus
Mindful Nutrition –  a Foundation for Health and Wellness – Optimal performance through "strategic eating"
Mindful Movement –  exercise,  wellbeing, stamina, and fitness